THE ACES DESIGN EXCELLENCE AWARDS accords recognition to projects in Singapore which have been judged to have demonstrated engineering design excellence.
The Awards aim to:-
Serve as an incentive for engineers practising in Singapore to pay particular attention to high standards of engineering design and quality.

Provide an avenue through which competition for work excellence may be enhanced.

Give recognition to design projects and engineering achievements carried out by members of the Association of Consulting Engineers Singapore.

Provide an opportunity to demonstrate to clients and the general public the broad range of services and technical expertise provided by consulting engineers.
ACES Design Excellence Award 2020
1. CPG Consultants Pte Ltd, Winner of Excellence Award for category Mechanical & Electrical, for the project "National Centre for Infectious Diseases (NCID)"

2. Squire Mech Pte Ltd, Winner of Excellence Award for category Mechanical & Electrical, for the project "Additions & Alterations to Changi Airport Terminal 1″

3. WSP Consultancy Pte Ltd, Winner of Excellence Award for category Mechanical & Electrical, for the project "Sengkang General & Community Hospitals"

4. Arup Singapore Pte Ltd, Winner of Excellence Award for category Civil & Structural, for the project "Thomson East-Coast Line Contract T203 (TE2)"

5. Arup Singapore Pte Ltd, Winner of Excellence Award for category Civil & Structural, for the project "SingHealth Tower and Outram Community Hospital"
6. Kiso-Jiban Singapore Pte Ltd, Winner of Excellence Award for category Civil & Structural, for the project "Contract T226 Marina Bay Station, TEL"

7. Meinhardt (Singapore) Pte Ltd, Winner of Excellence Award for category Civil & Structural, for the project "Frasers Tower"

8. Meinhardt (Singapore) Pte Ltd, Winner of Excellence Award for category Civil & Structural, for the project "National Centre for Infectious Diseases and Centre for Healthcare Innovation"

9. YWL Engineering Pte Ltd, Winner of Excellence Award for category Civil & Structural, for the project "Keppel Viaduct Widening"

10. Arup Singapore Pte Ltd, Winner of Merit Award for category Civil & Structural, for the project "Paya Lebar Quarter"
11. Arup Singapore Pte Ltd, Winner of Merit Award for category Civil & Structural, for the project "JTC trendspace (Furniture Hub)"

12. Aurecon Singapore Pte Ltd, Winner of Merit Award for category Mechanical & Electrical, for the project "Global Switch Singapore Woodlands Data Centre"

13. Aurecon Singapore Pte Ltd, Winner of Merit Award for category Mechanical & Electrical, for the project "Renewable Energy Integration Demonstrator – Singapore"

14. Meinhardt (Singapore) Pte Ltd, Winner of Merit Award for category Civil & Structural, for the project "Singapore Management University (SMU) Connexion"

15. Ronnie & Koh Consultants Pte Ltd, Winner of Merit Award for category Civil & Structural, for the project "Kampung Admiralty"
ACES Design Excellence Award 2018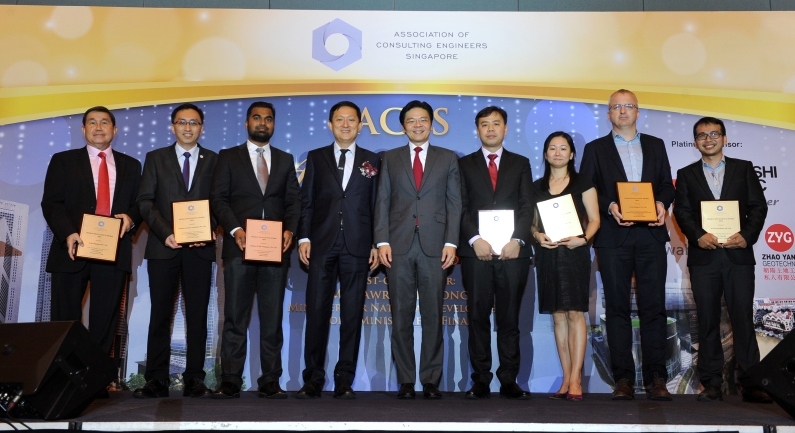 Minister Lawrence Wong presented the Design Excellence Awards for 2018 to the following winners at our 47th Gala Dinner:
1. Arup Singapore Pte Ltd, Winner of Excellence Award for category Civil & Structural, for the project "Tanjong Pagar Centre", represented by Er. Chia Wah Kam

2. Surbana Jurong Consultants Pte Ltd, Winner of Excellence Award for category Mechanical & Electrical, for the project "Provision of Multi-disciplinary services for SP Services Data Centre", represented by Er. Lek Siang Hwa

3. Rankine & Hill (Singapore) Pte Ltd, Winner of Merit Award for category Mechanical & Electrical, for the project "Oasia Downtown Hotel", represented by Er. K Mohamed Jawith
4. Er. Chua Tong Seng, ACES President Council Session 2016/2017

5. Mr. Lawrence Wong, Minister for National Development and Second Minister for Finance

6. Aurecon Singapore (Pte) Ltd, Winner of Merit Award for category Mechanical & Electrical, for the project "Addition & Alterations to NUS Yong Loo Lin School of Medicine Block MD10 Building", represented by Er. Joshua Loke
7. WSP Consultancy Pte Ltd, Winner of Excellence Award for category Mechanical & Electrical, for the project "MEDIACORP", represented by Ms. Sophia Chua

8. Arup Singapore Pte Ltd, Winner of Excellence Award for category Civil & Structural, for the project "Downtown Line 3 Contract 937 Fort Canning Station and Associated Tunnels", represented by Er. Gordon Lee

9. KTP Consultants Pte Ltd, Winner of Excellence Award for category Civil & Structural, for the project "Scotts Tower", represented by Er. Aaron Foong
ACES Design Excellence Award 2016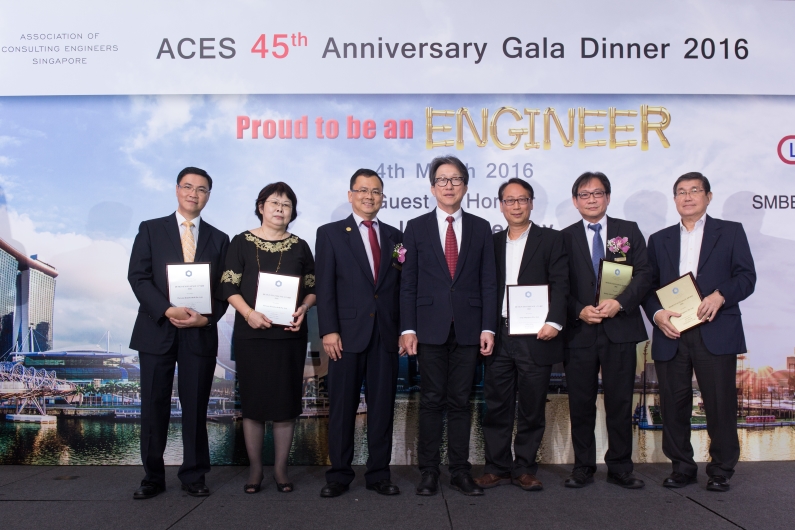 1. Parson Brinckerhoff Pte Ltd, Winner of Merit Award for category Mechanical & Electrical, for the project Downtown Line 2, represented by Er. Matthew Ngan

2. Parson Brinckerhoff Pte Ltd, Winner of Merit Award for category Mechanical & Electrical, for the project South Beach, represented by Ms. Susan Koh

3. Er. Ling Shiang Yun, ACES President Council Session 2015/2016
4. Mr. Lim Swee Say, Minister for Ministry of Manpower

5. Arup Singapore Pte Ltd, Winner of Merit Award for category Civil & Structural, for the project Jubliee Bridge, represented by Er. See Lin Ming

6. Ronnie & Koh Consultants Pte Ltd Winner of Excellence Award for category Civil & Structural, for the project Sky Terrace@Dawson, represented by Er. Koh Boon Liang
7. Arup Singapore Pte Ltd, Winner of Excellence Award for category Civil & Structural, for the project South Beach, represented by Er. Chia Wah Kam
ACES Design Excellence Award 2015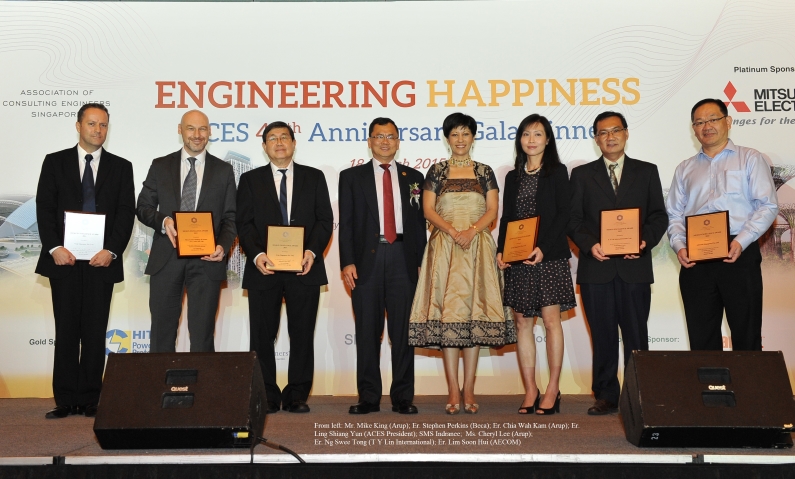 1. Arup Singapore Pte Ltd, Winner of Merit Award for category Civil & Structural, for the project Singapore University & Design Library Pavilion, represented by Mr Mike King

2. Beca Carter Hollings & Ferner (S.E. Asia) Pte Ltd, Winner of Excellence Award for category Mechanical & Electrical, for Maritime Experiential Museum, represented by Er. Stephen Perkins

3. Arup Singapore Pte Ltd, Winner of Excellence Award for category Civil & Structural, for the project Singapore Sport Hub, Represented by Er. Chia Wah Kam
4. Er. Ling Shiang Yun, ACES President Council Session 2014/2015

5. Ms. Indranee Rajah, Senior Minister of State, Ministry of Law and Ministry of Education

6. Arup Singapore Pte Ltd, Winner of Excellence Award for category Civil & Structural, for the project Downtown Line 1 Bugis and associated tunnels, represented by Ms. Cheryl Lee
7. T. Y. Lin International Pte Ltd, Winner of Merit Award for category Civil & Structural, for the project NUH Medical Centre, represented by Er. Ng Swee Tong

8. AECOM Singapore Pte Ltd, Winner of Merit Award for category Civil & Structural, for the project Downtown Line stage 1, represented by Er. Lim Soon Hui
ACES Design Excellence Award 2013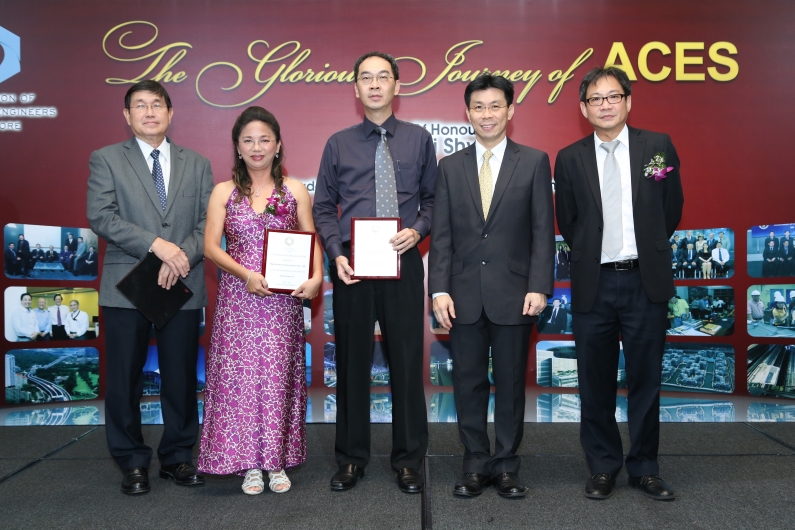 1. Arup Singapore Pte Ltd, Winner of Excellence Award for category Civil & Structural, for the project Marina Bay Sands, Art Science Museum, represented by Er. Chia Wah Kam

2. Meinhardt Infrastructure Pte Ltd, Winner of Excellence Award for category Civil & Structural, for the project 313 @ Somerset, represented by Er. Wong Pui Fun, Joanne
3. Beca Carter Hollings & Ferner (S. E. Asia) Pte Ltd, Winner of Merit Award for category Mechanical & Electrical, for the project Mixed Development at Changi Business Park (Changi City), represented by Mr. Yik Yu Hock

4. Mr. Lee Yi Shyan, Senior Minister of State for Trade and Industry and National Development
5. Er. Koh Boon Liang, ACES President Council Session 2012/2013