THE ACES YOUNG CONSULTING ENGINEER OF THE YEAR aims to recognise, celebrate and encourage young consulting engineers working in Singapore. Recipients will be judged to have made a substantial and sustained contribution to their profession and completed excellent work that demonstrates their design and engineering abilities.
The Awards aim to recognise young engineers who are making an excellent contribution working as a consultant engineer in Singapore. Their contribution may be in one or many of the following areas:
Working in a team on a challenging or ground-breaking project
Substantial role in the team
Project leadership
ACES Young Consulting Engineer of the Year 2019
The awards were presented by ACES Vice-President, Er. Teo Yann at our 48th Gala Dinner held on 21 Mar 2019. We are glad that there are many young promising consulting engineers which auger well for the future of the Consulting Industry.
1. Sirius Tan Hanqin – Beca Carter Holdings & Ferner (S.E.Asia) Pte Ltd
Electrical Consulting Engineer of the Year

2. Hng Ming Yang – WSP Consultancy Pte Ltd
Electrical Consulting Engineer of the Year

3. Tsai Tsung Chieh – WSP Consultancy Pte Ltd
Electrical Consulting Engineer of the Year

4. Er. Hew Foo Loong – CPG Consultants Pte Ltd
Mechanical Consulting Engineer of the Year
5. Ye Qinyi – WSP Consultancy Pte Ltd
Civil & Structural Consulting Engineer of the Year

6. Pang Jun Sheng – WSP Consultancy Pte Ltd
Mechanical Consulting Engineer of the Year

7. Er. Teo Yann – ACES Vice-President Council Session 2018/2019

8. Adrian Hew Ting Hui – WSP Consultancy Pte Ltd
Civil & Structural Consulting Engineer of the Year
9. Gavin Chan Yao Zhong – CPG Consultants Pte Ltd
Civil & Structural Consulting Engineer of the Year

10. Er. Chew Aik Loong – KTP Consultants Pte Ltd
Civil & Structural Consulting Engineer of the Year

11. Er. Toh QuanLi  – CPG Consultants Pte Ltd
Mechanical Consulting Engineer of the Year

12. Johnson Li Chun Ming – Beca Carter Hollings & Ferner (S.E. Asia) Pte Ltd
Mechanical Consulting Engineer of the Year
ACES Young Consulting Engineer of the Year 2018
1. Er. Ng Beow Suan, Squire Mech Pte Ltd
Mechanical Consulting Engineer of the Year

2. Er. K. Mohamed Jawith, Rankine & Hill (S) Pte Ltd
Electrical Consulting Engineer of the Year

3. Er. Ng Chun Keong, KTP Consultants Pte Ltd
Civil & Structural Consulting Engineer of the Year

4. Mr. Allan Tay Eng Mian, AECOM Singapore Pte Ltd
Civil & Structural Consulting Engineer of the Year
5. Mr. Yan, Benedict Ethan Chonghe, WSP Consultancy Pte Ltd
Mechanical Consulting Engineer of the Year

6. Er. Teo Yann, ACES Vice-President Council Session 2017/2018

7. Er. Berlina Winata, Arup Singapore Pte Ltd
Civil & Structural Consulting Engineer of the Year

8. Er. Yip Yau Kit Colin, Arup Singapore Pte Ltd
Civil & Structural Consulting Engineer of the Year

9. Er. Joshua Loke Sim Wee, Aurecon Singapore (Pte) Ltd
Mechanical Consulting Engineer of the Year
10. Mr. Aw Chung Seng, Beca Carter Hollings & Ferner (S.E. Asia) Pte Ltd
Mechanical Consulting Engineer of the Year

11. Er. Ho Choon Beng, DSCO Group Pte Ltd
Mechanical Consulting Engineer of the Year

12. Mr. Tan Kian Su, WSP Consultancy Pte Ltd
Mechanical Consulting Engineer of the Year

13. Er. Lam Siew Ping, Rankine & Hill (S) Pte Ltd (not in picture)
Mechanical Consulting Engineer of the Year
ACES Young Consulting Engineer of the Year 2017
1. Mr. Fang SiQin, Black & Veatch (SEA) Pte Ltd
Engineering Project Manager

2. Ms. Charlotte Mok, Beca Carter Hollings & Ferner (SE Asia) Pte Ltd
Female Engineer

3. Er. Pang Pei Song, Parsons Brinckerhoff Pte Ltd
Mechanical Consulting Engineer of the Year
4. Mr. Chen Junguang Kelvin, Aurecon Singapore (Pte) Ltd
Mechanical Consulting Engineer of the Year

5. Er. Chua Tong Seng, ACES Vice-President Council Session 2016/2017

6. Er. Christopher Angkodjojo, Surbana Jurong Consultants Pte Ltd
Electrical Consulting Engineer of the Year
7. Mr. Lim Boon Keong, DSCO Group Pte Ltd
Electrical Consulting Engineer of the Year

8. Er. Tan Wai Houng, Meinhardt (Singapore) Pte Ltd
Structural Consulting Engineer of the Year

9. Er. Ling Chong Yuen, Meinhardt (Singapore) Pte Ltd
Civil Consulting Engineer of the Year
ACES Young Consulting Engineer of the Year 2016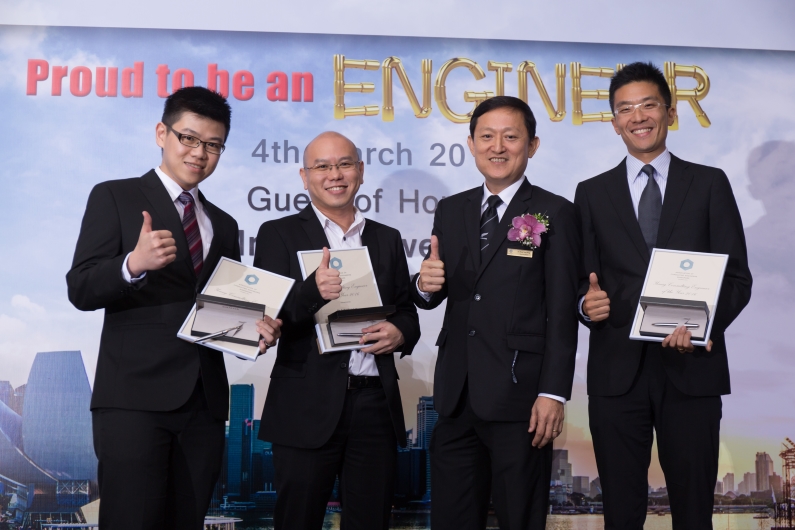 1. Mr Edi Hartono, Beca Carter Hollings & Ferner (S.E.Asia) Pte Ltd
Structural Consulting Engineer of the Year

2. Er. Sebastien Lee, Arup Singapore Pte Ltd
Civil Consulting Engineer of the Year
3. Er. Chua Tong Seng, ACES Vice-President Council Session 2015/2016

4. Er. Joe Lam, Arup Singapore Pte Ltd
Structural Consulting Engineer of the Year
ACES Young Consulting Engineer of the Year 2015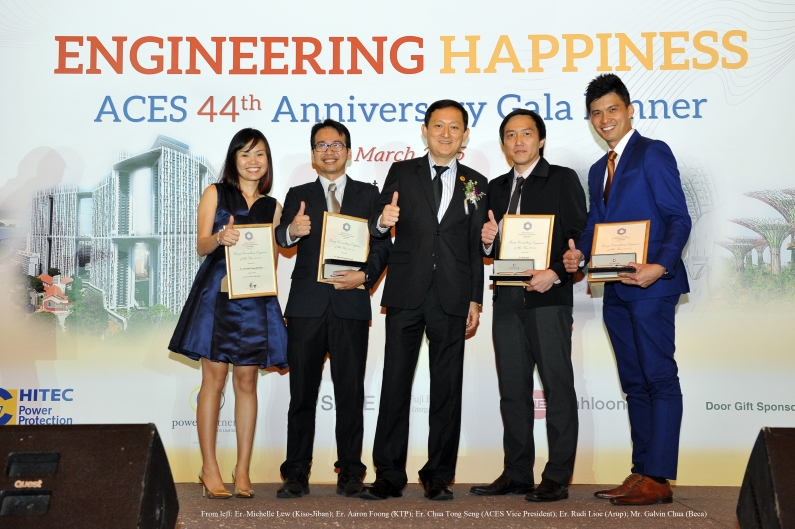 1. Er. Lew Geok Theng, Michelle, Kiso-Jiban Singapore Pte Ltd
Civil Consulting Engineer of the Year

2. Er. Foong Kit Kuen, Aaron, KTP Consultants Pte Ltd
Structural Consulting Engineer of the Year
3. Er. Chua Tong Seng, ACES Vice-President Council Session 2014/2015

4. Er. Rudi Lioe, Arup Singapore Pte Ltd
Structural Consulting Engineer of the Year
5. Mr. Chua Shibin, Galvin, Beca Carter Hollings & Ferner (S.E.Asia) Pte Ltd
Electrical Consulting Engineer of the Year
ACES Young Consulting Engineer of the Year 2014
1. Ms. Ho Cher Ri, Beca Carter Hollings & Ferner (S. E. Asia) Pte Ltd
Mechanical Consulting Engineer of the Year


2. Er. Yow Cheong Hoe, T. Y. Lin International Pte Ltd
Civil Consulting Engineer of the Year
3. Er. Yong Fen Leong, T. Y. Lin International Pte Ltd
Structural Consulting Engineer of the Year

4. Er. Ling Shiang Yun, ACES Vice-President Council Session 2013/2014
5. Ms. Hiew Siaw Ling, Arup Singapore Pte Ltd
Female Consulting Engineer of the Year

6. Er. Dr. Ong Chee Wee, One Smart Engineering Pte Ltd
Civil Consulting Engineer of the Year
ACES Young Consulting Engineer of the Year 2013
1. Er. David Ng Chew Chiat, Meinhardt Infrastructure Pte Ltd
Civil Consulting Engineer of the Year


2. Ms. Foo Wei Wan, Vivien, Arup Singapore Pte Ltd
Female Consulting Engineer of the Year
3. Er. Ling Shiang Yun, ACES Vice-President Council Session 2012/2013

4. Mr. Mak Swee Chiang, Arup Singapore Pte Ltd
Structural Consulting Engineer of the Year